This summer, the Law Clerk Program is again supported by a grant from the Confederated Tribes of Siletz Indians through the Siletz Tribal Charitable Contribution Fund. Calandra Dénanimnékiikwe McCool, a law clerk in NARF's Boulder, Colorado, office, was chosen to be the recipient of the Siletz grant.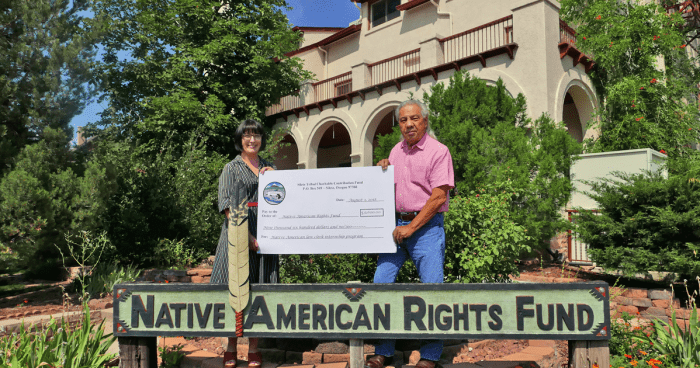 Calandra is a third year law student at the University of Oklahoma, which is located in her home state. Prior to law school, she earned a Masters of Arts in the History of Science, Technology and Medicine from the University of Oklahoma. Her thesis, "Native American Stories as Scientific Investigations of Nature: Indigenous Science and Methodologies," examined how stories are used by the indigenous peoples of North America to preserve and transmit scientific knowledge, and how those stories are perceived by the western scientific paradigm. Her thesis also discussed how to ethically research indigenous communities, including one's own community, in contrast with western research methodologies.
A member of the Citizen Potawatomi Nation, Calandra worked as a summer legal intern for her tribe while enrolled in the University of Oklahoma College of Law's Summer Start Program. The following summer, she worked for Oklahoma Indian Legal Services, where she worked on their Cobell Settlement Whereabouts Unknown Project, in addition to gaining drafting and litigation experience. Calandra also has worked as a research assistant for the University of Oklahoma's Donald E. Pray Law Library, as well as for Professor Katheleen Guzman in relation to the Uniform Laws Commission's Model Tribal Probate Code project. Calandra is the 2018-2019 University of Oklahoma NALSA Chapter President, as well as the 2018-2019 National NALSA Treasurer. She is also an editor for the American Indian Law Review, which is scheduled to publish her comment, "Welcome to the Mvskoke Reservation: Murphy v. Royal, Jurisdiction, and Reservation Diminishment in Indian Country." Some of Calandra's legal interest areas within the context of indigenous law include water law, cybersecurity law, and natural resource/environmental law.
NARF thanks the Confederated Tribes of Siletz Indians and the Siletz Tribal Charitable Contribution Fund for its grant to further the NARF Law Clerk Program, which allows NARF to mentor Native law students like Calandra and allows the students to make an impact on Indian law and to Native people during their term at NARF. The Siletz Grant also allows NARF to continue our mission to develop Indian law and educate the public about Indian rights, laws, and issues.
More blog posts