At NARF, we are dedicated to supporting the next generation of Indian law lawyers, and one way we do this is through our Law Clerk Program.  This week we're highlighting DesiRae Deschine, a law clerk in our Boulder, CO, office.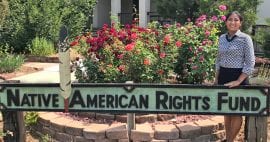 DesiRae Deschine, M.S.W., grew up in Window Rock, Arizona, on the Navajo Nation.  Her father is Navajo from Dennehotso, Arizona, and her mother is Hunkpapa Lakota from Cannon Ball, North Dakota.  She earned a master's degree in social work in 2011 and a bachelor's degree in psychology in 2006, both from Arizona State University. Prior to law school, DesiRae worked in the social work field as a data analyst for the Arizona Department of Health, Division of Behavioral Health, as a behavioral health crisis counselor, and as a case manager for the Salt River Pima-Maricopa Indian Community's Social Services Department. She also had the opportunity to gain valuable international experience working and living in Northern Japan teaching English and learning Japanese.
Today, DesiRae is entering her third year at the Sandra Day O'Connor College of Law at Arizona State University in Phoenix, Arizona.  Her legal interests are in economic development in Indian Country and strengthening tribal sovereignty.  Last summer, she worked in the Department of the Interior, Office of the Solicitor, Division of Indian Affairs, as one of the Udall Foundation's Native American Congressional Interns.  In her spare time DesiRae enjoys hiking, traveling, antiquing, and watching documentaries on science, architecture, and history. (She also is grateful to be in Boulder for the summer and out of the Phoenix heat!)
Welcome, DesiRae!
More blog posts