An important part of advancing Native American rights and developing Indian law, is developing the next generation of warriors for justice. To this end, for decades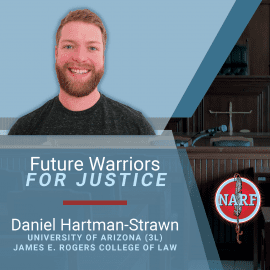 , NARF has offered a summer law clerk program to offer law students a unique opportunity to learn about the broad range of federal Indian law and tribal. This highly competitive program has trained hundreds of talented students who have gone to serve Indian Country in a variety of ways.
This week, we would like to introduce Daniel Hartman-Strawn! Daniel Hartman-Strawn is a rising 3L at the University of Arizona James E. Rogers College of Law, where he is part of the Indigenous Peoples Law and Policy Program. Daniel also completed his undergraduate degrees in American Indian Studies and Law at the University of Arizona. Daniel grew up in Denver, Colorado. In his free time, he loves to spend time in the outdoors mountain biking, hiking, and rafting. His particular interests in law include environmental justice, water law, and voting rights.
Daniel will be serving in our Anchorage office this summer!
Welcome, Daniel!
Currently, we are accepting applications for 2021 fall internships. Learn more or apply to our clerkships and internship program→ 
More blog posts