An important part of advancing Native American rights and developing Indian law, is developing the next generation of warriors for justice. To this end, for decad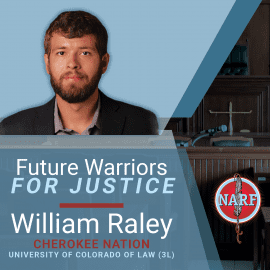 es, NARF has offered a summer law clerk program to offer law students a unique opportunity to learn about the broad range of federal Indian law and tribal. This highly competitive program has trained hundreds of talented students who have gone to serve Indian Country in a variety of ways.
Today, we introduce William Raley! William Raley is a rising third-year student at the University of Colorado and a member of the Cherokee Nation. He will be serving as a law clerk in our Boulder office this summer.
After earning a bachelor's degree in architecture, he realized that the law was a better vehicle for building a more just and sustainable world. His interests include natural law, environmental justice, and tribal sovereignty. William also serves as the Vice-President of the CU NALSA, and serves on the Executive Board of the National NALSA organization, as the Moot Court Administrator for the upcoming National NALSA Moot Court Competition at CU Law
Welcome, William!
Currently, we are accepting applications for 2021 fall internships. Learn more or apply to our clerkships and internship program→ 
More blog posts