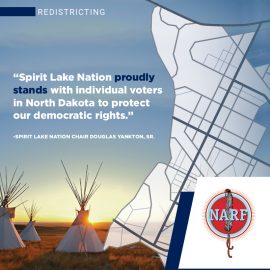 On July 7, 2022, North Dakota District Court Chief Judge Peter D. Welte issued an order denying the North Dakota Secretary of State's motion to dismiss Turtle Mountain Band of Chippewa Indians, et al. v. Alvin Jaeger, which challenges the state's new legislative map as violating Section 2 of the Voting Rights Act (VRA) by unlawfully diluting the voting rights of Native Americans. Judge Welte found that the Turtle Mountain Band of Chippewa Indians, the Spirit Lake Tribe and individual Native American plaintiffs have standing to bring suit and that Section 2 of the VRA can be enforced by a private party under 42 U.S.C. § 1983.
"North Dakota's newly drawn state legislative map dilutes the voting strength of Spirt Lake members. The Secretary of State has tried to dismiss the case on far-fetched procedural arguments because he doesn't want to have to argue the facts, but we look forward to the opportunity move forward with this case," said Spirit Lake Tribe Chair Douglas Yankton, Sr.
"Historically, Native voters in northeastern North Dakota have been able to elect two State House candidates of our choice. The new map reduces our representatives to one and is in direct violation of the Voting Rights Act. We appreciate that the court recognized that Tribes and individual Native voters have the right to be heard and have our voting rights protected," said Turtle Mountain Chippewa Chair Jamie Azure.
The Native American Rights Fund (NARF), Campaign Legal Center (CLC), and the Law Offices of Bryan Sells represent the plaintiffs in the VRA suit. Robins Kaplan LLP represents the Spirit Lake Tribe and Turtle Mountain Band of Chippewa Indians.
Read More: Turtle Mountain Band of Chippewa Indians et al v. Jaeger et al
More blog posts