In February 2022, the Spirit Lake Tribe, the Turtle Mountain Band of Chippewa Indians, and several individual voters filed a lawsuit challenging North Dakota's state legislative map, as unlawfully diluting the voting rights of Native Americans in violation of Section 2 of the Voting Rights Act (VRA).
Background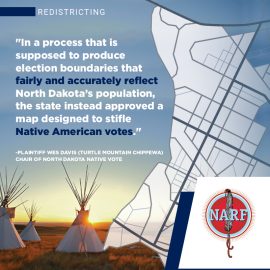 As an initial step of the democratic voting process, the U.S. conducts a national census every 10 years. As soon as the U.S. Census releases new population estimates, states begin a process to update election district map boundaries to reflect changes in populations. Fair districting empowers Native communities to have appropriate resources and representation alongside fellow voters. The new district boundaries remain in place for the next decade and must comply with criteria outlined in the VRA.
"Instead of creating fair boundaries as outlined in the Voting Rights Act, the map adopted by the North Dakota Legislature in 2021 silences Native American voters on every issue, lowers the chance Native voters could elect a candidate they feel best represents their community, and prevents communities in these splintered districts from receiving a fair share of public resources," said Spirit Lake Tribe Chair Douglas Yankton, Sr.
While citizens of American Indian tribes have had the right to vote in U.S. elections since 1924, Native people have had to fight the state of North Dakota for their right to vote ever since. The state of North Dakota, for example, passed laws and enacted policies that made it impossible for Native voters to participate in elections until 1958.
Throughout the redistricting process after the 2020 Census, the North Dakota legislature's redistricting committee refused to hold public meetings on or near reservations and ignored testimony from tribal leaders. "Chairman Yankton and myself both testified before the legislature's redistricting committee that Turtle Mountain and Spirit Lake should be drawn into the same district, and that the committee's redistricting plan would violate federal law by diluting the Native American vote. The legislature chose to ignore our concerns and decided to adopt an illegal map," said Turtle Mountain Chippewa Chair Jamie Azure.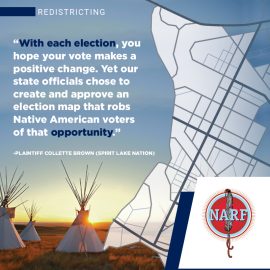 In November 2021, North Dakota Governor Doug Burgum signed into law H.B. 1504, redrawing state legislative districts to account for population shifts captured by the 2020 Census. The new redistricting plan simultaneously packs a supermajority of Turtle Mountain Band of Chippewa Indians citizens into a single house subdistrict, District 9A, and cracks other Turtle Mountain citizens into House Subdistrict 9B and Spirit Lake citizens into House District 15. Previously, Native American voters in northeastern North Dakota had the opportunity to elect two candidates of choice to the state house. Under the new plan, the opportunity to elect candidates to the state house is reduced to one district in the region.
"In a process that is supposed to produce election boundaries that fairly and accurately reflect North Dakota's population, the state instead approved a map designed to stifle Native American votes," said plaintiff and Chair of North Dakota Native Vote Wes Davis (Turtle Mountain Chippewa).
By using the redistricting process to reduce the number of state representatives in places with a large Native American population, North Dakota continues a tradition of attempting to suppress Native voters. "North Dakota created a map that guarantees voters living on these two tribal reservations face a no-win scenario before each election even begins," said plaintiff Zachery S. King (Turtle Mountain Chippewa).
"With each election, you hope your vote makes a positive change. Yet our state officials chose to create and approve an election map that robs Native American voters of that opportunity. We need to win this lawsuit because North Dakota is not above the laws that protect our democracy from exactly this kind of voter discrimination," said plaintiff Collette Brown (Spirit Lake Tribe), who intends to exercise her right to vote in 2022.
The Litigation
February 2022: Tribes and Voters File Lawsuit Challenging North Dakota's State Legislative Redistricting Plan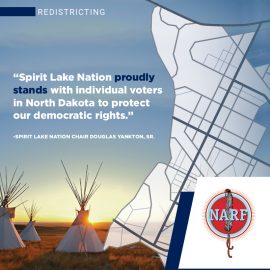 On behalf of the Turtle Mountain Chippewa, the Spirit Lake Tribe, and the individual voters, attorneys filed Turtle Mountain Band of Chippewa Indians v. Alvin Jaeger on February 7, 2022. The Native American Rights Fund (NARF), Campaign Legal Center (CLC), and the Law Offices of Bryan Sells represent the plaintiffs in their suit. Robins Kaplan LLP represents the Spirit Lake Tribe.
"The new legislative district boundaries unfairly reduce the number of state legislative seats for which Native American voters in this region of the state have an opportunity to elect their candidate of choice," said NARF Staff Attorney Michael Carter.
In order to comply with the VRA, North Dakota must implement a redistricting plan in which Native American voters on the Turtle Mountain and Spirit Lake reservations comprise an effective, geographically compact majority in a single legislative district. Such a plan can be drawn, is legally required, and would provide Native American voters the opportunity to elect their preferred candidates to both state house seats and the state senate.
"The packing of Native American voters into one state house district, and the cracking of Native American voters into nearby house districts dominated by voters who bloc vote against Native Americans' preferred candidates, unlawfully dilutes the voting rights of Turtle Mountain and Spirit Lake citizens in violation of Section 2 of the VRA," said CLC Senior Legal Counsel Molly Danahy.
July 2022: Tribes' Challenge to ND Legislative Map Will Continue
On July 7, 2022, North Dakota District Court Chief Judge Peter D. Welte issued an order denying the North Dakota Secretary of State's motion to dismiss Turtle Mountain Band of Chippewa Indians, et al. v. Alvin Jaeger. Judge Welte found that the Turtle Mountain Band of Chippewa Indians, the Spirit Lake Tribe and individual Native American plaintiffs have standing to bring suit and that Section 2 of the VRA can be enforced by a private party under 42 U.S.C. § 1983.
"North Dakota's newly drawn state legislative map dilutes the voting strength of Spirt Lake members. The Secretary of State has tried to dismiss the case on far-fetched procedural arguments because he doesn't want to have to argue the facts, but we look forward to the opportunity move forward with this case," said Spirit Lake Tribe Chair Douglas Yankton, Sr.
"Historically, Native voters in northeastern North Dakota have been able to elect two State House candidates of our choice. The new map reduces our representatives to one and is in direct violation of the Voting Rights Act. We appreciate that the court recognized that Tribes and individual Native voters have the right to be heard and have our voting rights protected," said Turtle Mountain Chippewa Chair Jamie Azure.
More Cases