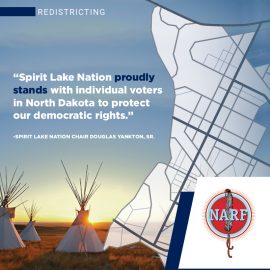 On Monday, April 10, 2023, Chief Judge Peter D. Welte of the United States District Court for the District of North Dakota denied the North Dakota Secretary of State's motion for summary judgment in Turtle Mountain Band of Chippewa Indians, et al. v. Michael Howe, a case brought by the Turtle Mountain Band of Chippewa, Spirit Lake Tribe, and individual Native voters to contest the redrawing of legislative districts where tribal members live.
For many years, Native American voters on and around the Turtle Mountain Reservation have been able to elect three representatives of their choice to the state legislature. In 2021, the North Dakota legislature decided to redraw the map in a way that reduces that number down to one representative. The Tribes have alleged that the new maps divide the Native voters from the neighboring Turtle Mountain and Spirit Lake reservations among several new districts, which has the effect of diluting the Native vote in violation of Section 2 of the Voting Rights Act.
"Before the state legislature adopted its unlawful redistricting map, Turtle Mountain Chairman Jamie Azure and I testified before the legislature's redistricting committee, warning that they were setting themselves up for failure and even offering them an alternative plan that would follow the law. Their refusal to listen then has led us to where we are now. I look forward to the case being decided at trial," said Spirit Lake Tribe Chairman Douglas Yankton, Sr.
The Native American Rights Fund, Campaign Legal Center, and The Law Office of Bryan L. Sells, LLC represent the plaintiffs in their suit. Robins Kaplan LLP represents the Turtle Mountain Band of Chippewa and Spirit Lake Tribe.
Read More: Turtle Mountain Band of Chippewa Indians et al v. Michael Howe
More blog posts